The Department of Anaesthesia and Pain Management at Royal North Shore Hospital is a great place to embark on your career as an anaesthetist. Our staff and working environment are friendly, dynamic and above all, very supportive.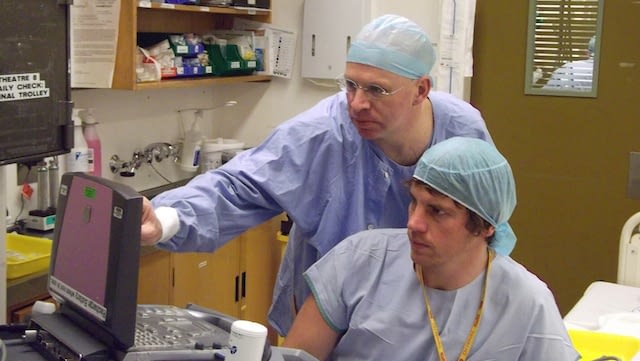 It is a busy department both in and after hours, which will allow you to gain and refine a variety of skills on your path to becoming a Fellow of the Australian and New Zealand College of Anaesthetists. We provide anaesthetic services for a range of complex procedures and surgical specialties including neurosurgery, cardiothoracics, major spinal surgery, burns, hepatobilliary, obstetrics, and orthopaedics. This will give you a particularly broad depth of experience during your training. Our areas of expertise include acute and chronic
pain management
, TIVA, intra-operative neurophysiological monitoring, vascular neuroanaesthesia, and ultrasound guided regional anaesthesia.
There is regular structured teaching for registrars. A weekly meeting program for the whole department rotates through evidence-based topic updates by guest speakers as well as trainees, journal club, and quality assurance meetings. Registrars also have weekly teaching sessions in addition to exam focussed tutorials and viva practice sessions for both parts of the ANZCA exams.
Registrars spend the bulk of their time at RNS, however they are rotated to peripheral hospitals during their training, including Hornsby, Northern Beaches, Lismore and Port Macquarie. The paediatric specialised study unit is completed at the Children's Hospital at Westmead with a 4 or 6 month term.
Each academic year is divided into four terms. Registrars doing general rotations usually work five days a week in addition to a complement of overtime involving weekend, evening and night shifts. Night shifts are done as a week block, with the subsequent week rostered off. The night shift registrar is supervised by an on site Provisional Fellow. On average, each registrar would be required to do approximately two blocks of nights per term (about one block every six weeks). Registrars doing specialty rotations are generally excluded from night shifts in order to gain maximum exposure to that specific specialty, but are still required to contribute to the evening shift roster.
All enquiries regarding prospective registrar training should be made to the Supervisors of Training:
Dr Alice Summons and Dr Paul Sinclair
+61 2 9463 2488